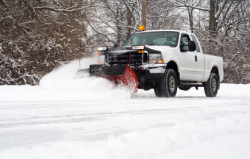 Winters here in Massachusetts can be harsh, to say the least. Ice and snow seem to fall in equal amounts, leaving you with all-around treacherous travel conditions after every storm. If you want to enjoy the beauty of a fresh snowfall without enduring the hardships that accompany it, contact Local Dumpster King for professional snow plowing. Our snow removal service is designed to provide you with improved safety and comfort throughout the winter months, protecting you from backbreaking work and potential pitfalls. And while other companies only offer snow removal services for large driveways and parking lots, we also extend our plowing services to sidewalks and walkways. That means you'll be able to walk and drive in snowy conditions without any fear of an accident on your property.
At Local Dumpster King, we've been providing residents in Sutton, Oxford, and the surrounding areas of Worcester County with thorough snow plowing services since 1995. With over 16 years of experience, we know what it takes to complete residential and commercial snow removal services with efficiency and competence. We'll perform your snow removal service with a friendly attitude and convenient scheduling. There are no contracts necessary, and you're even able to call on us for emergency services when you're truly stuck. For snow plowing services you can rely on, call Local Dumpster King today.
When you opt for a professional snow removal service over shoveling all of the snow yourself, you'll be doing more than just saving time. With the thorough, affordable snow plowing services from Local Dumpster King, you'll be able to enjoy improved safety, accessibility, and aesthetics. Snow and ice create hazardous conditions that increase the chances of physical injury. But with professional snow removal services, slippery conditions will be eradicated and you won't have to strain your back doing it. If you own a business, plowing your parking lot will make customers much more likely to visit—obviously because it is much safer, but also because it looks clean and creates the perception you care about your clients' well-being. Whether you own a home, business, or commercial property, you'll want to make certain that you get snow plow service as quickly as possible to ensure the most satisfactory results.
Local Dumpster King is fully licensed, bonded, and insured, offering affordable rates and unbeatable customer service for snow plowing services. If you're ready to get the reliability and affordability you've always wanted, contact our office via phone or e-mail today!